raising the spare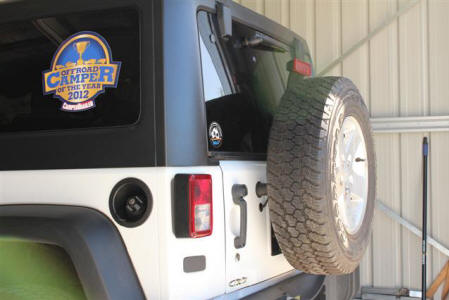 With the new JK Wrangler came a problem of opening the rear door when we were connected to our Track Trailer Eagle camper trailer. This was a combination of the hydraulic overrider brake's master cylinder being mounted high over the hitch & the low position of the spare wheel mounted to the rear door of the Jeep.
First up I made a plate with holes to match the spare wheel carrier & then welded studs into the plate 90mm higher up to bolt the original wheel carrier to. The tyre was then level with the bottom of the door & I was also able to use the original rubber steadies that stopped the wheel from wobbling. I used a bit of rubber I had laying around to cover the air vent.
We were now able to open the rear door, however it was necessary to push down on the T bar coupling pin of the Treg off road hitch to still clear the bottom of the door. A low profile off road hitch was needed. Looking around the market we found the Vehicle Components DO35 v2 coupling the most suited for our needs, along with a side mounted handbrake to compliment the already installed Vehicle Components 45mm square10 inch electric braked axle.
The DO35 coupling is a pleasure to use with easy hookup. The removable cap seals the moving parts from the dust.
We have found there is a little restriction to the rear view, but nothing that a rearview camera wont fix.